Shop New Volvo V60 Cross Country & Volvo V60 Recharge in Houston, TX

The Volvo V60 Recharge and Volvo V60 Cross Country: Magnificent and Reliable Station Wagons
Before the rise of the crossover SUV, station wagons like the new Volvo V60 & Volvo V60 Cross Country were the most popular class of vehicles used as family cars by drivers across Houston, TX. Today, station wagons offer practical dimensions with spacious interiors, potent powertrains, and an assortment of luxury features to immerse the whole family in comfort, giving crossovers a run for their money. Volvo Cars has always dominated the station wagon class, and this is made more apparent with the newly redesigned Volvo V60 from our new inventory.
The 2022 Volvo V60 has a very bold and striking design that is very appealing to the eye. The station wagon is available in two different configurations. The Volvo V60 Cross Country and Volvo V60 Recharge are versatile, capable, and practical vehicles for driving in Pearland, TX.
The Volvo V60 Cross Country features a more rugged but still beautiful profile, similar to that of the larger Volvo V90. In terms of its capabilities, it's more of an SUV in a station wagon body. Both versions of the car do have ample cargo space that could fit a couple of suitcases and other essential luggage. You can also fold down the seats for even more cargo room.
What's the Difference Between the Volvo V60 and Volvo V60 Cross Country?
The 2022 Volvo V60 Cross Country is an adventure-oriented vehicle that blends aspects of a crossover into its station wagon form. It has an impressive ground clearance of 8.3 inches, allowing it to maneuver better when off-roading. It comes with an off-road mode that activates the hill-descent control and adjusts the all-wheel-drive system, which is also standard.
The other available iteration of the Volvo V60 is the 2022 Volvo V60 Recharge. This vehicle is a plug-in hybrid that pairs stunning fuel efficiency with power and refinement. If you and your loved ones are looking to save some money at the pump in South Houston, TX, then this option is well worth checking out.
Some of you may be wondering: what happened to the basic Volvo V60? For the 2022 model year, Volvo Cars trimmed its offerings. Whereas before the company sold the Volvo V60 lineup, the Volvo V60 Cross Country, and the Volvo V60 Recharge model, it now just offers the latter pair. This makes choosing the right Volvo V60 easy: do you want the off-road machine or the hybrid money-saver? Both are great choices, and each family will need to decide which configuration is the right fit for them.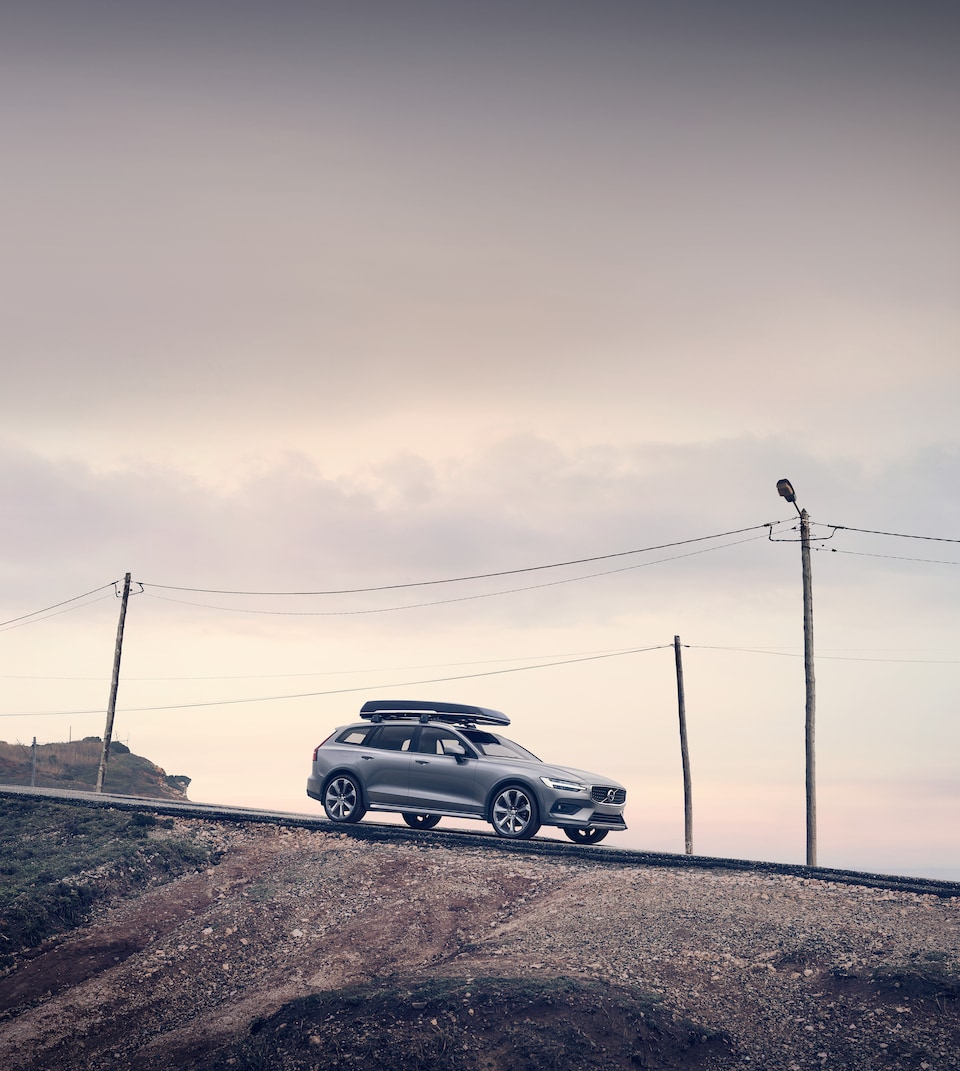 Performance
The Volvo V60 Cross Country is powered by a turbocharged four-cylinder engine that makes 250 horsepower. It also features AWD. The Volvo V60 Recharge uses the same engine but adds a supercharger to the mix along with electric motors that together generate an impressive 455 horsepower. The standard powertrain takes the Volvo V60 Cross Country from 0-60 mph in about 6.4 seconds, while the supercharged Volvo V60 Recharge shortens the acceleration time to a remarkable 4.4 seconds.
Both versions of the 2022 Volvo V60 are very efficient cars that can be used for daily commutes and long getaway trips around League City, TX. The sturdy Volvo V60 Cross Country variant gets an EPA-estimated 22/31/25 (city/highway/combined) MPG1. This rating is pretty impressive, considering it's only available with all-wheel drive. The hybrid Volvo V60 Recharge powertrain gets an EPA-estimated 74 MPGe combined2 and up to 41 miles of electric-only driving range.2 That means you can run errands all over Pasadena, TX, without spending a dime at the gas station.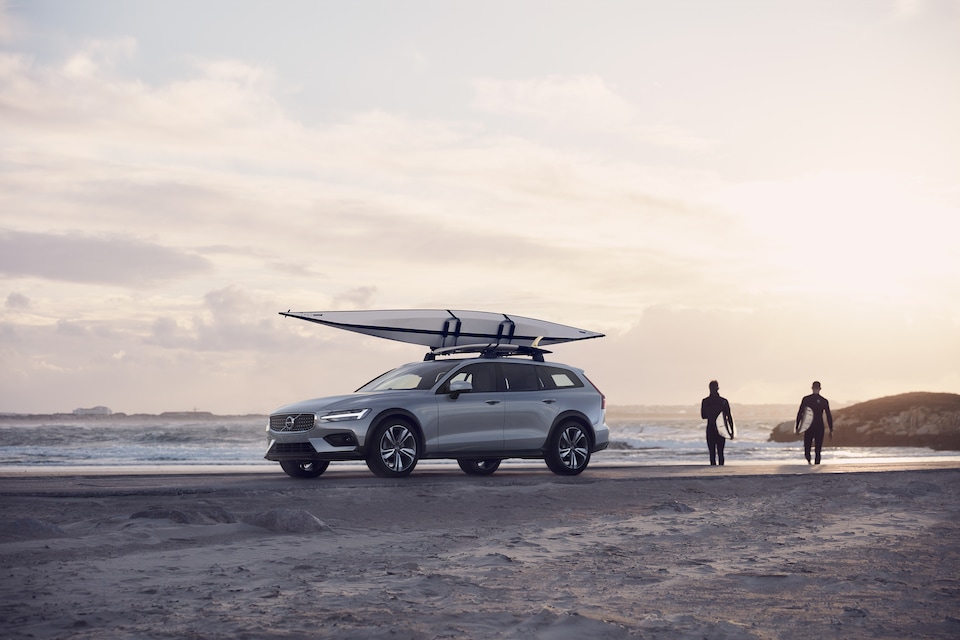 Safety
Volvo Cars has always maintained high-quality standards when it comes to safety, and the 2022 Volvo V60 lineup is no exception. Both versions of the wagon come with lane-keeping assist, lane departure warning, automated emergency braking with pedestrian detection technology, and available adaptive cruise control. These features will help keep you and your family safe on the roads in Houston, TX.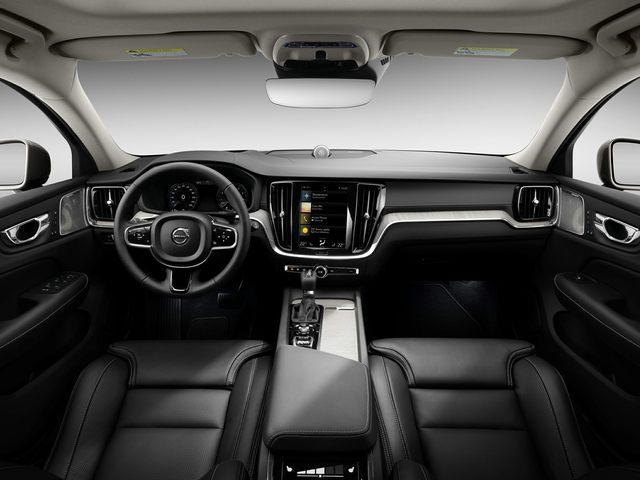 Technology
The 2022 Volvo V60 models are well-equipped with all the necessary tech features you might want on the road. The Volvo V60 interior is also quite luxurious, with high-quality materials throughout. Thanks to its more than 30 cubic feet of cargo space with the back row folded down, the Volvo V60 can also haul a great deal of cargo if you need it to do so.
The infotainment system is clear, crisp, and easy to use; it features intuitive menus and controls. The 2022 V60 Cross Country and Volvo V60 Recharge alike come standard with a connection to a traffic-aware in-built navigation system. You and your passengers will be supremely comfortable in either version of the 2022 Volvo V60.
Why Choose the Volvo V60 Recharge?
For decades, the Volvo V60 has been a favorite for families across the country, and the Volvo V60 Recharge is undoubtedly looking to carry on that legacy. The stylish and very capable station wagon is designed with the end-user in mind, and that is why it comes packing all the latest available goodies.
Perhaps most important for Houston, TX, drivers, the Volvo V60 Recharge will help you save at the pump with its stunning fuel economy and impressive all-electric driving range. If you want some more wiggle room in the monthly budget, well, cutting down on your fuel costs is a great way to get it.
Why Choose the Volvo V60 Cross Country?
The Volvo V60 Cross Country offers excellent value for your money, especially if the family enjoys adventures. It provides a stable balance between luxurious, comfortable interiors and versatile, capable performance. The 2022 Volvo V60 Cross Country gives you everything you would get from a crossover SUV at only a fraction of the cost. The brilliantly crafted vehicle has a roomy interior, advanced technology, and a whole assortment of smart tech features.
With all that being said, both the Volvo V60 Recharge and the Volvo V60 Cross Country are exceptional cars. They were built to prioritize convenience and provide all the comfort you'd need from a family vehicle. The Volvo V60 Recharge is a perfect fit for a daily use family car, whereas the Volvo V60 Cross Country is more adventure-oriented. However, both of these impressive automobiles offer an above-average performance on the road and are quite fun to drive around Houston, TX. The Volvo V60 Recharge and the Volvo V60 Cross Country are luxurious, safe, and reliable station wagons. They perform better than most sedans and crossovers, and they offer more space and convenience features.
Is the Volvo V60 Cross Country comfortable?
While the 2022 Volvo V60 Cross Country is outfitted for rugged terrain, the interior is not bare or basic by any means. High-end materials have been used to make the cabin a comfortable place to be, even for hours at a time. The available climate package also offers a heated steering wheel and heated rear seats, and a leather interior is an available option that does not cost extra.
Is the Volvo V60 an SUV?
Neither version of the 2022 Volvo V60 is an SUV. Instead, these vehicles blend the utility of an SUV with the familiar comfort of a station wagon. You'll be able to haul cargo as if you had an SUV without sacrificing the homey feel that comes with a Volvo station wagon. In short, it's the best of both worlds.
Test Drive the Volvo V60 and Volvo V60 Cross Country Today!
The Volvo V60 and Volvo V60 Cross Country are excellent family station wagons and worth checking out. If you are ready to experience either, visit us here at Bayway Volvo Cars, nestled near League City and Baytown, to speak to a member of our friendly sales team.
They'll be happy to give you a full tour of our new and used inventory. Fill out a simple financing application to get a jump start on the financing process today.
---
1For more information, please visit the official US government source for all fuel economy at www.fueleconomy.gov
2This is a hybrid plug in vehicle. Since electricity is not measured in gallons, a conversion factor is used to translate the fuel economy into miles per gallon of gasoline equivalent (MPGe). Use for comparison purposes only. Your MPGe will vary for many reasons, including but not limited to, driving conditions, how and where you drive, how you maintain your vehicle battery-package/condition, and other factors. For more information, including information on MPGe, see www.fueleconomy.gov.
Hours
Monday

9:00 AM - 8:00 PM

Tuesday

9:00 AM - 8:00 PM

Wednesday

9:00 AM - 8:00 PM

Thursday

9:00 AM - 8:00 PM

Friday

9:00 AM - 8:00 PM

Saturday

9:00 AM - 8:00 PM

Sunday

Closed