Compare The 2023 Audi Q7 Vs. 2023 Volvo XC90

The Audi Q7 vs. Volvo XC90 matchup is the battle of two luxury three-row SUVs. Each of these automobiles offers a comfortable cabin, muscular engine choices, and a sleek aesthetic. You have questions, though: Which is more powerful? Which has a more luxurious interior? Which one will be a better choice for my family and me?
If you're curious about the answer to any or all of these questions, you're in the right place. We'll compare and contrast these two vehicles below to help you determine which one is the better match for your lifestyle. Our Audi Q7 vs. Volvo XC90 comparison will cover these SUVs' performance potential, safety features, hybrid powertrain options, and more.
2023 Audi Q7 Performance (55 TFSI®)
Engine:
Turbocharged 3.0-liter V-6
Hybrid System:
Mild-hybrid
Horsepower:
335
EPA-estimated MPG:
17/21/18 MPG (City/Highway/Combined)4
Seating:
7
Length:
199.3 in
Width:
77.6 in
Cargo volume:
14.2 cu ft
Fuel tank size:
22.5 gal
Interior highlights:

Leather Upholstery
Wood Interior Accents
Touch Screen
2023 Volvo XC90 Recharge
Engine:
Turbocharged and supercharged 2.0-liter four-cylinder
Hybrid System:
Plug-in hybrid
Horsepower:
455
EPA-estimated MPG:
58 MPGe (Combined)5
Seating:
7
Length:
195 in
Width:
79.1 in
Cargo volume:
15.8 cu ft
Fuel tank size:
19 gal
Interior highlights:

Leather Upholstery
Panoramic Moonroof
Four-zone Climate Control
Touch Screen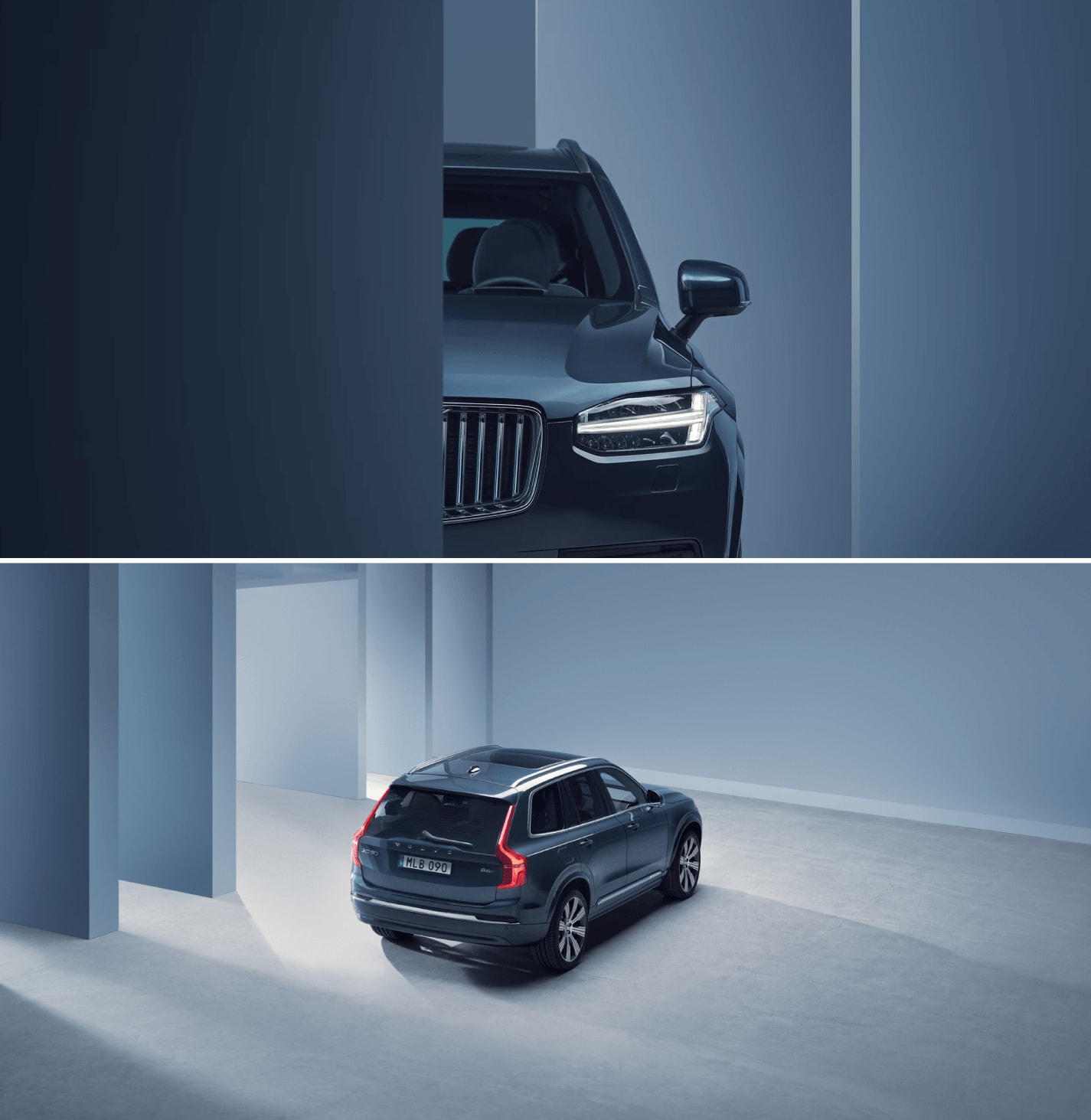 Audi Q7 vs. Volvo XC90 Engine & Performance Specs
Three engines are available for the 2023 Volvo XC90, with just two on offer for the 2023 Audi Q7. Right off the bat, the Volvo SUV is taking the lead in our Audi Q7 vs. Volvo XC90 matchup by offering drivers in Houston, TX, more choices. The entry-level Volvo powertrain is the B5 AWD configuration, which pairs a turbocharged 2.0-liter four-cylinder engine with a mild-hybrid battery-and-motor system for a total of 247 horsepower and 258 pound-feet of torque.
The next choice for the Volvo XC90 is the B6 AWD powertrain. It adds a supercharger to the B5 setup, which brings the horsepower total to 295 and the torque to 310 pound-feet. These mild-hybrid powertrains are fuel-efficient and muscular options. The Volvo XC90 Recharge plug-in hybrid powertrain is the third choice, which we will discuss below alongside the optional V-6 Audi hybrid engine.
For the next step of our 2023 Volvo XC90 vs. 2023 Audi Q7 comparison, we turn to the Audi Q7 engine. The base choice consists of a turbocharged 2.0-liter four-cylinder and a 12-volt mild hybrid system that make 261 horsepower. This narrowly edges out the base Volvo XC90 option but loses to the B6 configuration. It also has poorer fuel economy. An Audi Q7 with the four-cylinder engine gets an EPA-estimated 19/25/21 MPG (City/Highway/Combined),1 while a Volvo XC90 B5 gets an EPA-estimated 22/28/25 MPG (City/Highway/Combined)2 and a B6 model earns an EPA-estimated 20/26/22 MPG (City/Highway/Combined).2
The Volvo XC90 wins out in this segment of our comparison. While its base engine is slightly less muscular than that of the Audi, it has superior fuel economy. If you want more power, the B6 engine offers it, along with better gas mileage.
Audi Q7 vs. Volvo XC90 Towing Capacity
The Volvo XC90 has a towing capacity of 5,000 pounds when properly equipped. The Audi Q7 has a towing capacity of 4,400 pounds3 on the base model, but equipping the vehicle with the optional V-6 raises the cap to 7,700 pounds.3 If you need to tow more than 5,000 pounds, odds are you're looking at a truck of some kind, which may sport a five-figure towing capacity. For some folks, though, the 7,700-pound cap is attractive.
Audi Q7 Hybrid vs. Volvo XC90 Hybrid
The last two engine options to compare are powerful hybrid choices. The Volvo XC90 has the T8 eAWD plug-in hybrid powertrain, while the Audi features a V-6 engine paired with a 48-volt mild-hybrid system. The Volvo XC90 Recharge, the plug-in hybrid model, features a supercharged and turbocharged 2.0-liter engine with an 18.8-kWh battery-and-motor system. This powertrain gets 455 horsepower and 523 pound-feet of torque, making it a truly powerful choice for drivers in Houston, TX.
The optional upgraded Audi engine is a turbocharged 3.0-liter V-6 that pairs with a 48-volt mild-hybrid battery-and-motor architecture to get 335 horsepower and 369 pound-feet of torque. While this is certainly a respectable engine, it does not command the raw power of the Volvo XC90 Recharge. This round, the comparison of the two SUVs' most powerful engines swings decisively to the 2023 Volvo XC90.
Audi Q7 vs. Volvo XC90 Interior Features & Technology
The interiors of both the Volvo XC90 and the Audi Q7 are spacious and comfortable. The 2023 Volvo XC90 comes standard with leatherette upholstery, a laminated moonroof, four-zone climate control, integrated roof rails, and a sweeping set of safety features that will be discussed below. Upgrading from the entry-level Core trim to the mid-tier Plus version of the vehicle adds leather seating, genuine wood interior accents, and a 360-degree view camera.
The top-of-the-line Volvo XC90 Ultimate is even more luxurious. It boasts ventilated front seats, Nappa leather upholstery, a premium 14-speaker Harman Kardon® sound system, and the new Volvo graphical head-up display. This futuristic technology beams navigation directions and details of your vehicle's performance directly onto the bottom of your windshield. With the graphical HUD, you can stay on course without glancing at the map on your phone or car's touch screen.
As we compare Audi Q7 vs. Volvo XC90 amenities, we see that the Audi Q7 also has a refined interior. It has leather upholstery, heated seats, and genuine wood accents. Like the Volvo XC90, premium leather – Valcona, in this case – is an available upgrade, as is a massage function. Both vehicles include wireless cell phone connectivity, a center touch screen, and a digital display behind the steering wheel.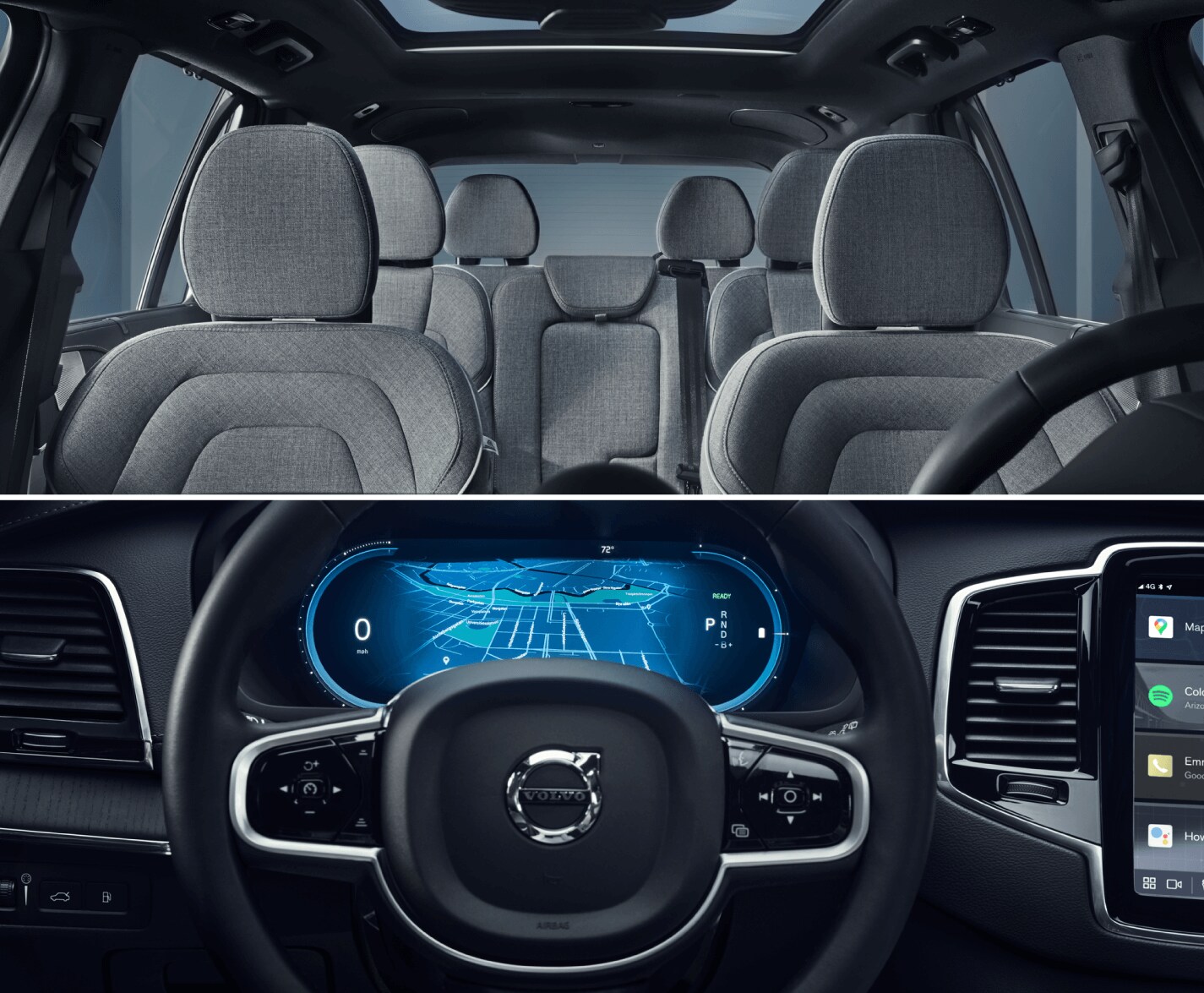 Audi Q7 vs. Volvo XC90 Safety
Volvo Cars famously places a premium on safety. To this end, the company has included a wide array of safety technologies as standard features on the 2023 Volvo XC90. You'll be backed up by this suite of technologies as you drive on the streets in Houston, TX, and take road trips with the family. Adaptive cruise control makes highway driving easier. With its rear cross-traffic alerts, the blind-spot monitoring system makes sure you can know where the cars around you are, even when they're outside your range of vision.
Lane-keeping assistance helps steer you back into your section of the road if you begin to drift, while the traffic sign recognition system keeps you up to date with the posted speed limit and other road rules. The new Volvo XC90 for sale at our dealership is designed to help you stay safe every day.
The Audi Q7 also boasts a number of standard safety features. Like the Volvo XC90, it comes standard with automated emergency braking. Other features that are standard on the luxury Volvo vehicle are, however, only available technologies on the Audi Q7. Adaptive cruise control, for example, does not come with the base model. Neither does active lane assist. The Audi Q7 loses this round of the Audi Q7 vs. Volvo XC90.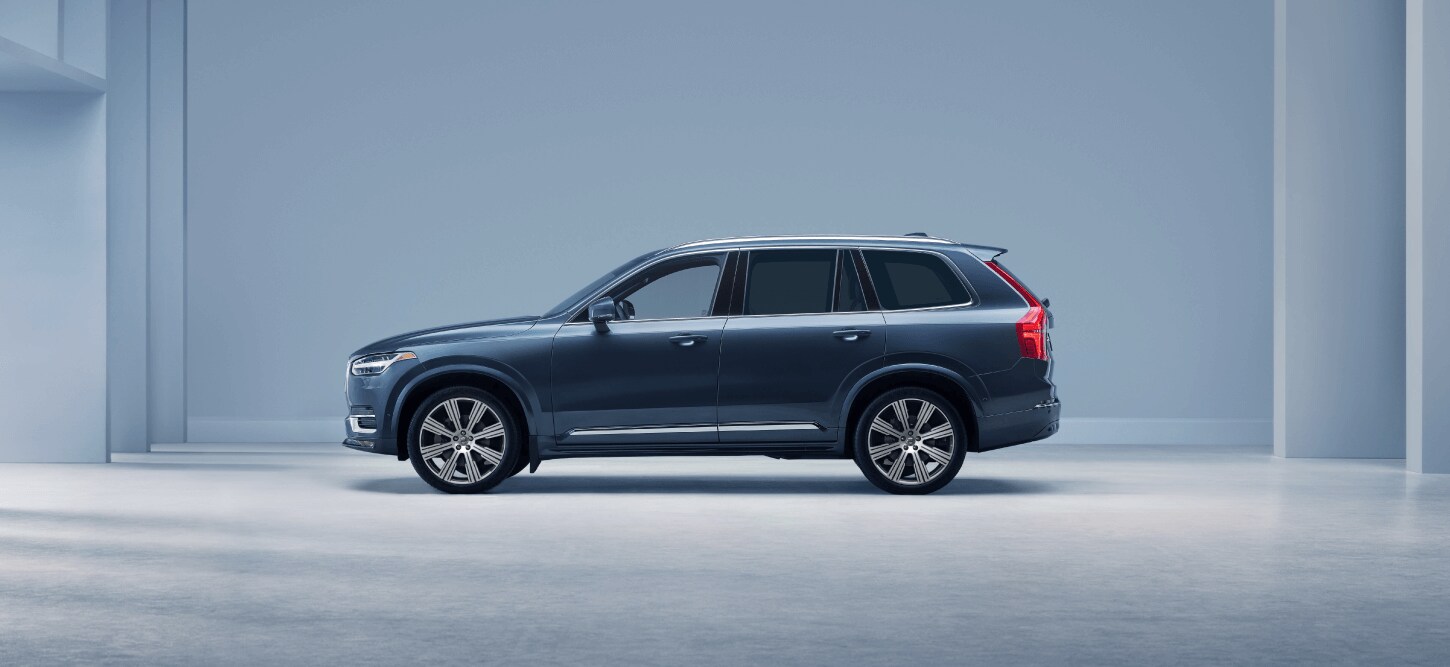 Volvo XC90 or Audi Q7?
In the course of our Audi Q7 vs. Volvo XC90 matchup, we have discussed the vehicles' available engines, interiors, towing capacities, and safety technology. The Volvo XC90 is the clear winner, coming out on top in the majority of categories. The base model is also thousands of dollars less expensive than that of the Audi Q7, making it an attractive option for families in Houston, TX.
Volvo vehicles offer incredible value. If you don't think you need three rows of seating, you'd do well to check out our Volvo XC90 vs. Volvo XC60 comparison. The Volvo XC60 is a luxury two-row SUV that is replete with safety features and creature comforts. Folks that want the third row may want to lease a Volvo XC90.
FAQ
Which is better: the Audi Q7 or Volvo XC90?
The Volvo XC90 is superior to the Audi Q7. It comes with a better range of standard safety technologies, more muscular engine options, and gets better fuel economy than the Audi SUV. You and your loved ones will be eminently comfortable in the spacious and well-appointed cabin of the Volvo XC90. Please reach out to us if you have any questions about this vehicle.
Which costs more? 2023 Audi Q7 vs. Volvo XC90?
The exact price of these cars depends on the options and trims you select. That said, however, the base model of the Volvo XC90 is less expensive than that of the Audi Q7, despite the fact that it comes with a more efficient engine, better safety technology, and a comparable interior. Visit us today to test-drive the Volvo XC90.
Which is bigger? 2023 Audi Q7 or Volvo XC90?
Both the 2023 Volvo XC90 and the 2023 Audi Q7 are three-row SUVs that offer seating for up to seven people. The Audi Q7 is marginally larger, measuring 199.3 inches long, 77.6 inches wide, and 68.5 inches tall. The Volvo XC90 is 195 inches long, 79.1 inches wide, and 69.7 inches tall. These vehicles are very comparable in exterior dimensions.
---
119 city/25 highway/21 combined city/hwy MPG (2023 Audi Q7). EPA estimates. Your mileage will vary and depends on several factors including your driving habits and vehicle condition.
2For more information, please visit the official US government source for all fuel economy at www.fueleconomy.gov.
3When properly equipped.