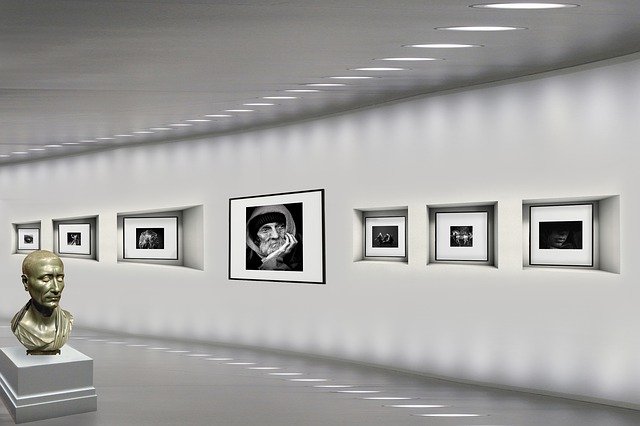 Houston's rich and vibrant art scene has left the city with many galleries and institutions where visitors can spend a thoughtful few hours perusing art. If you're planning a day of art exploration in Houston, Texas, be sure to add a couple of these must-see art galleries to your itinerary:
1. The Museum of Fine Arts Houston
The Museum of Fine Arts Houston, or MFAH, is arguably the premier art gallery in the city. This sprawling campus has multiple buildings and areas, each showcasing a different style and experience. Take a walk through the Cullen Sculpture Garden on beautiful days. Visit the Bayou Bend Collection and Gardens for an insight into American fine and decorative arts. Most of MFAH's collection is showcased at the Sarofim Campus, where you'll find an expertly curated selection of thought-provoking pieces. If you only visit one art gallery in Houston, we always suggest the MFAH.
2. The Menil Collection
The Menil Collection is a cutting-edge art gallery that lets you travel through the world of art. This art destination is a 30-acre museum and art neighborhood that's a beloved destination for artists and art lovers. This modern museum lets the pieces it showcases speak for themselves — there are no artist statements to be found here. This museum is a must-see destination for those interested in the arts of various cultures. If you're looking for a quality gallery you can visit on a budget, admission to the Menil Collection is always free.
3. Contemporary Arts Museum Houston
If you're on the hunt for modern, current art, head to the aptly named Contemporary Arts Museum Houston. At this museum, you'll find an ever-revolving display of some of the best works from contemporary artists. This museum is a great place to find and attend special events that give you greater insight into the world of art and artists. Every time you just drop in to see what's new at this museum, you'll find plenty of think about during your visit.
4. Blaffer Art Museum
Head to the University of Houston to visit the Blaffer Art Museum. This gallery and art museum is an interesting place to see work from some of the up-and-coming artists attending the university. Make a special trip to the museum to see the master's thesis exhibition every spring semester, toward the end of March and the beginning of April.
5. Colquitt Gallery Row
If you want to visit as many private art dealers and galleries in one day as you can, head to Colquitt Gallery Row. This art gallery district from the 2600-2800 blocks of Colquitt Street is home to many top-notch art dealers that showcase some of the greatest local artists of the area. A walk down this street is a walk through the heart of Houston's art scene.
Whether you're a Rennaissance art lover or a post-modern aficionado, these galleries offer interesting experiences that allow you to dive deep into the world's best art. Explore each to find your new favorite art destination and keep an eye on their calendar to take advantage of the galleries' offerings throughout the year.

Image Via Pixabay