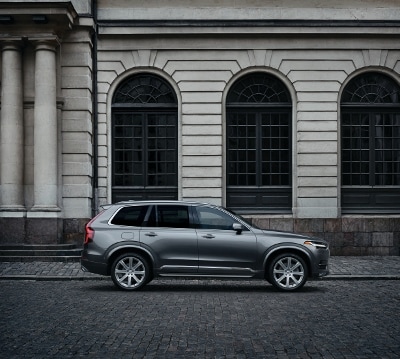 The Volvo XC90 is a haven, a place where you can relax, think and travel in first-class comfort. Where contemporary Scandinavian design meets Swedish craftsmanship. Where quality materials will delight your senses and put comfort at the heart of every journey. And where an intuitive center display with touchscreen helps keep you connected and in control.
    Whether driving along the highway or negotiating urban traffic, our intuitive technology makes the journey safer and easier, leaving you to enjoy the ride. The unique Volvo driving experience is further enhanced with sophisticated power trains that give you performance and efficiency, so you never have to compromise.
    The XC90 represents our distinctive take on what it means to drive a luxury car in the 21st century. The XC90 is a sanctuary. Designed Around You.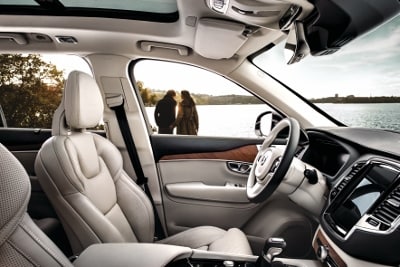 You know you're
looking at truly great design when what appears simple at first glance turns out to be ingenious and stimulating once you disc over the thoughts and details that make up the whole. And as with any luxury item - a finely crafted watch, a bespoke suit - its beauty might be obvious, but its true value is only revealed when you discover the expertise, the craftsmanship and the passion that went into making it.
    DRIVE - E ~ Enjoying more, using less.
Drive-E is our new generation, all-embracing approach to efficient power and an uncompromising driving experience. In fact, it redefines how luxury SUV as well as reduces the impact on the environment. This means you get power and driveability together with low fuel consumption and CO2 emissions.
    The key to this is our new, lightweight, low-friction, turbo, and turbo/super-charged 2.0L four-cylinder engine, which is coupled with our newly-designed automatic eight-speed Geartronic Transmission. To maximize the efficiency of our Drive-E powertrains, there's an Eco Mode, which calibrates the gearbox and engine control systems for the lowest possible fuel consumption. Eco Mode also softens the throttle response to further boost efficiency.
YOUR JOURNEY BEGINS HERE.
    Volvo created the XC90 with one single purpose: to provide you with an SUV that perfectly fits you and your lifestyle. A car that meets your expectations of dynamic drive with refined comfort and sophisticated design.